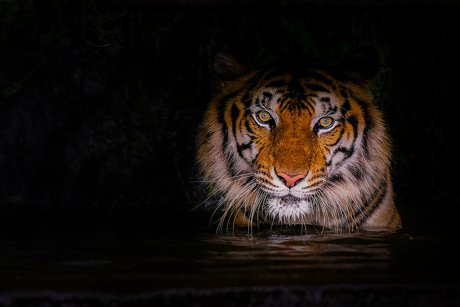 Animals are everywhere on Phoenix property. The world's creatures are honored on a daily basis at the Phoenix Zoo. Guests of the zoo can take a trip around the world without traveling far from their East Valley home.
The adventure starts off on the Arizona Trail and Desert Grove where animals native to the local landscape are highlighted. Around the bend is Stingray Bay. Here folks can feed and gently touch these mysterious aquatic creatures.
Next, journey to exotic lands on the Tropics Trail and through the Forest of Uco. There's plenty of tomfoolery going on in Monkey Village, the only "walk-through" squirrel monkey habitat in the country. Meet animals up close while wandering the African Trail. Climb up top a camel and cruise about the grounds. Giraffes stand tall and proud as they accept leafy handouts from human friends.
Animals from Around the World Call East Valley Home
Those with tired toes are thrilled with the Safari Cruiser. For just $6 tired souls can grab a seat and maneuver around the Phoenix property in comfort. A fun filled narrative is relayed during the trip providing all kinds of information about the animals including their behaviors and habitats.
Youngsters find all kinds of entertainment at their disposal besides observing their animal friends. Thrill seekers get in line for the Polar Slide. Adrenaline rushes are guaranteed as riders hop onto a snow tube and whip down 200 feet of fun. When the Arizona sun is too hot to handle birds of a feather flock to the Leapin' Lagoon and Yakulla Caverns. Cool waters flow freely and laughter is contagious in the splash pads. Close by the Enchanted Forest begs to be explored and anytime is playtime in Discovery Farm.
There are plenty of ways to support the Phoenix Zoo. Memberships are great for locals to get to know the animals. Perks include unlimited daily admission, special events and discounts. Adopt an Animal programs allow sponsors to support the care of their favorite animal. Popular creatures on the adoption list include the Sumatran Tiger, Sloth, Bald Eagle, Komodo Dragon, Fennec Fox and Mexican Wolf.
Spend some time monkeying around. Open seven days a week hours vary by season so check the website before heading over.